Various Engineering and other Jobs MSTC Limited
MSTC LIMITED (A GOVT. OF INDIA UNDERTAKING)
Registered and Corporate Office: Kolkata
MSTC Limited is a Mini Ratna Category-I PSU under the Ministry of Steel, Govt. of India. Invites applications for the following vacancies
Vacancy Details
Sl. No
Post Ref
Minimum Educational Qualification
Required Essential Experience
Number of Openings
Consolidated Monthly Pay
1
OSD(Operations)-Freshers
Graduate from recognized institute/ University with minimum 60% marks in graduation. Applicants with Professional qualification like MBA/Two years-Post Graduation Diploma will be preferred.
No Experience is Required.
26**
Rs. 40,000/-
2
OSD(Operations)-Ecommerce
Graduate from recognized institute/ University. Professional qualification like MBA/ Two years-Post Graduation Diploma will be preferred.
Minimum 5 Years post qualification work experience is required.
1
(Kolkata)
Rs. 60,000/-
3
OSD(Operations)-Vigilance
Minimum 2 years post qualification Work experience in any Vigilance related administrative role.
1
(Kolkata)
Rs. 50,000/-
4
OSD(Operations)-RO/BO
Minimum 2 Years post qualification work experience in Business Development.
4
(Kolkata-1,
Chandigarh-1,
Chennai-1,
Mumbai-1)
Rs. 50,000/-
5
OSD-Human Resources
Minimum 5 Years post qualification work experience in Human Resource/ Personnel Management. Additional experience in Labor Law shall be preferred.
1 (Kolkata)
Rs. 60,000/-
6
OSD-Facility and Estate Management (FEM)
Graduation from a Recognized institute / University. A Degree/Diploma in Engineering is desirable.
Minimum 5 years post qualification experience in managing/maintaining/upkeep of Office/Housing Complexes/ Commercial establishments.
1
(Kolkata)
Rs. 60,000/-
7
OSD(Finance)-5Y Exp
Graduate from recognized institute/University with minimum ICWA/CA inter passed. MBA (Finance)/ Two years-Post Graduation Diploma in Finance are also eligible.
Minimum 5 years post qualification Work experience in Finance and Accounts. Candidates with relevant professional experience will be preferred.
4
(Kolkata-4)
Rs. 70,000/-
8
OSD(Finance)-2Y EXP
Minimum 2 years post qualification Work experience in Finance and Accounts. Candidates with relevant professional experience will be preferred.
8
(Kolkata-2,
Hyderabad-1,
Vizag-1,
Trivandram-1,
Patna-1,
Nagpur-1,
Guwahati-1)
Rs. 60,000/-
9
OSD(Systems)-Java
Graduate in any discipline of Engineering/ MCA
Minimum 2 Years' post qualification work experience in followings skill sets: Experience in J2EE, Java/JSP/Servlet, Java Script, MVC, Web API, Web Services(SOAP/REST), development tools like RAD/Eclipse & testing tools for quality & security, Database like MS SQL/DB2/Oracle required for programming, J2EE compliant Application Server.
Additional experience on block chain or data analytics or AI related work shall be preferred.
13
(Kolkata-8,
New Delhi-2,
Hyderabad-3)
Rs. 70,000/- to Rs. 1,20,000/- (Pay shall be fixed based on relevant experience, with minimum required experience as 2 years as illustrated below)
10
OSD(Systems)-Dot Net
Minimum 2 Years' post qualification work experience in followings skill sets: Experience in dot Net core, ASP.Net, MVC, Web API, Web Services (SOAP/REST), development & testing tools for quality & security, Database like MS SQL/DB2/oracle required for programming, hosting of application on Windows Server and IIS
OR
Experience on React JS, React Native in Mobile App. (Android & IOS). Additional experience on python or data analytics or AI related work shall be preferred.
2
(New Delhi-2)
11
OSD(Systems)-Network Assistant
Minimum 2 Years' post qualification work experience in followings skill sets: Experience in Network Device operations, monitoring & troubleshooting for Routers, Switches, Firewall & other Devices including Security, IP services (IPv4, IPv6, VPN, Multicast, QOS, SNMP etc.), performance monitoring. Must have CCNA or CCNP certified with valid certificate.
Additional experience on Linux based OS operations shall be preferred.
1
(Kolkata)
Educational Qualification:
Complete details available in the Official Notification below
Pay Scale
Up to 70,000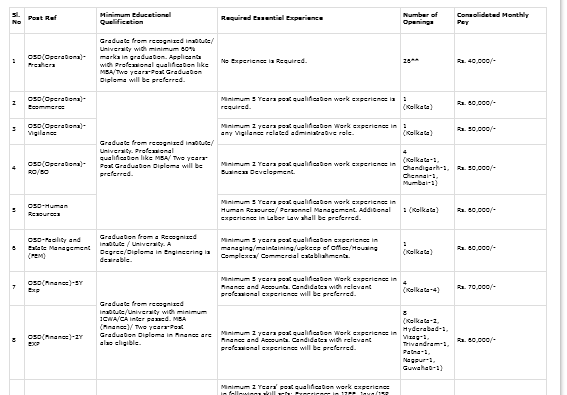 Application Fee:
No Application Fee.
Age limit
21-62 years

Upper age limit is relaxable in respect of candidates belonging to SC/ST/PwD/Ex-servicemen, etc. in terms of the instructions of the Government of India.

Mode of selection
Interview
Period of engagement
Two years (extendable upto 5 years in a staggered way based on requirement). One month notice period to be served in case of resignation/termination.
For applying for the above posts CLICK HERE (available w.e.f. 21/02/2023) Interested candidates may apply online at http://www.mstcindia.co.in, under careers. Application via any other mode/email shall not be accepted. Candidates applying for the above posts are required to pay a non- refundable application fee of Rs 590/- incl. GST (Rupees Five Hundred Ninety Only) at the time of submission of online application form (except SC/ST/PWD candidates).
Various Engineering and other Jobs MSTC Limited Important Dates:
Last date for online registration of application by candidates 13th March 2023 (23:59:59 Hrs)
Important Links